Invisalign treatment will consist of a series of aligners, they are switched out every two weeks. Each aligner is separately manufactured with precise calculations to gradually shift a patient's teeth into place.Unlike metal braces, invisalign are transparent which makes them less visible and can be put on and off. With Invisalign transparent braces, your teeth can be comfortable, attractive, and accurately aligned in half the time that conventional braces would take.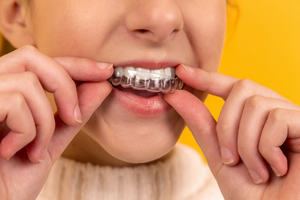 How long would it take for the treatment to be completed?
The typical Invisalign treatment period is one year, although this will vary depending on the age and special demands of each individual. Firstly your teeth are examined and then digital photos are captured.  Analyzing the severity estimated treatment time is given.
As they are transparent braces, people will not notice you are wearing them

With Invisalign, your teeth move more precisely

With Invisalign, it is easy to maintain good oral health. You can take the aligners out and clean it

Invisalign requires fewer doctor visits as compared to traditional braces
You know you'll finish up with a smile that actually fits since your Invisalign system is custom-made only for your teeth with a plan designed by you and your Invisalign doctor. Let's get ready to visit the Royal Dental Whittier!

Changing Lives One Smile At A Time!
Appointments