A composite filling is used to treat tooth decay and provide good durability and resistance to fracture in small-to-mid size restorations. While many of you might get afraid after listening to the term "composite filling", this procedure is very effective for those who need it.
Composite fillings are made of resin which is a plastic material and are metal-free, highly aesthetic, and long-lasting. Composite fillings look natural, so you feel more confident following a repair and restoration. In this, the decayed portion of the tooth is removed and then filled with a composite filling. Because composite fillings are tooth-colored, they can easily be matched with the existing teeth color and they are more suited for use in front teeth or more visible areas.
The Possible symptoms you need for a composite filling include tooth pain, white or brown stains on the teeth, and tooth sensitivity to sweet foods, etc.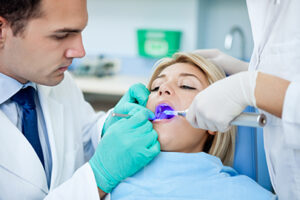 Benefits of Composite Filling:
Natural-looking appearance

Preservation of More Natural Tooth Structure

Versatility

Durability
If you have any other questions about how exactly fillings work, contact our Royal Dental Whittier today! Our staff is devoted to providing clients with a cushy and informative experience.
Schedule an appointment today or visit the Royal Dental Whittier to get the best dental solution for your teeth!
Changing Lives One Smile At A Time!
Appointments